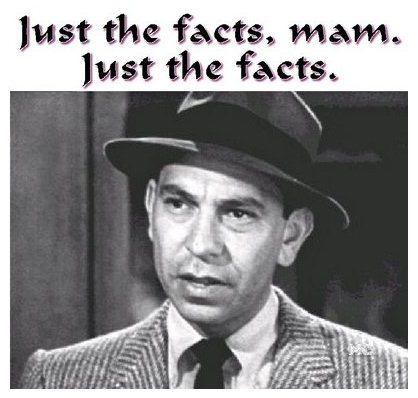 Let's get the facts straight. This would seem to be a very important concern…dealing with the facts…the correct facts…the factual facts. It is especially important during this Election Cycle… when the "truthful-facts" are important…such so, that the voters can separate TRUTH from FICTION.
The sense of TRUTH… is sadly missing… both from the candidates and the MEDIA.
Remember the early TV series – Dragnet, where Sgt. Joe Friday always said… "All I want is the facts, Ma'am, just the facts." The use of incorrect information…incorrect-facts …can… all too often… have the same effect as a lie. It could be very damaging. We all remember the children's game, where a word, or sentence, starts at one end of a line, with one set of facts, and by the time it ends up at the other end…something is entirely different.
I know of a Sunday School Teacher who miss-informed her class about the teachings of another religion… leaving an entirely incorrect impression about the teachings of that religion; with the class. She should have done a better job of preparation.
I know a another fellow who didn't find out his wife was ten years older than he was until she applied for Social Security…what a shock that was. Correct FACTS are important. Where would I be, right now, without Spell-check? Think about the effect, during war, of in-accurate maps; or in manned space… where the use of incorrect calculations could send a space craft into oblivion; or in Government…the in-accuracy of government spending, SSI calculations, IRS calculations, etc.
One Accurate Fact we can always rely on …is the Bible: John 10:27 – My sheep hear My voice, and I know them, and they follow Me.
God does not change the facts, miss-represent the facts… nor does He miss-inform us.
Psalm 89:35 – "Once I have sworn by My holiness; I will not lie to David.
…Blessings…cjlb…2/19/16