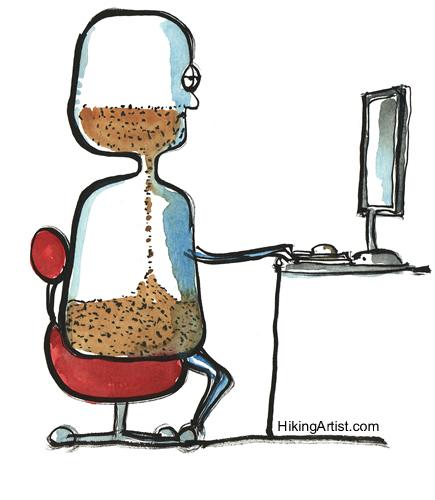 TIME: ….As often said: TIME is something that we each are allotted just so much of…..none of us know just exactly….how much.  It comes to us in a precise number of years, months, weeks, days, hours, and seconds. PRECISE. As we grow older, maturing with time…we began to realize that the time is running out. We are on the "down-side" of life.
Think of it in terms of a roll of toilet paper. The last part of the role runs out pretty fast. So…. what are we doing with our time?   Are we using it wisely?   Are we using it to help our fellowman move forward in his own pursuits?   Are we using it to LOVE those we care about? Are we using it wisely in terms of our career building process? Are we spending the "right amount of time" with our families? Do our spouse and children realize how important they are to us? These are "all important" pursuits ….but they PALE in comparison to our TIME used in God's work.
So … MOST IMPORTANTLY, are we using our time according to God's Law? We are told in Hebrews 6:11-12 – We want each of you to show this same diligence to the very end, in order to make your hope sure. We do not want you to become lazy, but to imitate those who through faith and patience inherit what has been promised.
Are we spending "our precious time" emulating those whose "heart is with God?" Are we up to good, or… are we giving satan a "foot-hold?" Ephesian's 4:26-27 says:  "In your anger do not sin;" Do not let the sun go down while you are still angry, and do not give the devil a foothold.
Let us not "waste our time" in idle pursuits. Proverbs 14:23 – In all toil there is profit, but idle talk tends only to poverty. Don't waste TIME on talking junk
… Blessings…cjlb.7/24/15.