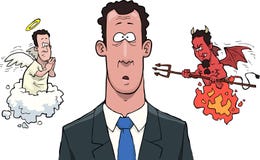 Are you a threat to satan?  Does satan send a Private or a Colonel to tempt you?  Do you know how to tell who satan sends and why?  If you are the type person that falls easily into the clutches of satan, then KNOW this:  He won't bother you personally…. He'll send one of his low-devil assistants; because he knows you, like me, are probably a "push-over."
Remember: satan tempted Jesus (and Job) personally.  He gave Jesus his personal attention; and of course he was no-match for Jesus; but he is a "good match" for the rest of us.  Remember satan can only be in "one place at a time."  Therefore, he needs millions of junior-grade assistants. I'm comfortable that I am a prime target for just about any private-first-class-devil.
But I have aspirations, that someday… I'll so formidable that satan himself will call on me personally…attempting to entice me into some serious sinful act.  But… he'll soon find out… he's got no-power over me.  Remember… we can be more powerful than satan… because we have the POWER to say NO… as long as we are in Santifying Grace. 
While we may have power over satan… when we are in the Grace of God… but, will we exercise that certain power?  As for me…I'm getting better at it every day.   For many years, I prided myself in "flirting with the apple" and have gotten out fairly unscathed.  But…NO-MORE. 
I don't want to take any more chances.  I'm getting too old and too careless…. to be playing Russian Roulette with Mr. Evil, himself.  So, my advice is this:  Don't flirt with the APPLE.  In Genisis 3:1-6 … it speaks of satan, through the guise of the serpent, telling Eve lies about God.  Satan attacks Adam and Eve'd loyalty to God… by lying to them, about God's plan for them.
Satan, on the other hand… attacks us "externally"… but because, as believers…satan has no power or control over us… unless we compromise our relationship with God.   Satan, however…  does have power and control of external circumstances and opportunity.  Ephesians 6:11-14 – "Put on the whole armour of God, that ye may be able to stand against the wiles of the devil. For we wrestle not against flesh and blood, but against principalities, against powers, against the rulers of the darkness of this world, against spiritual wickedness in high places. Wherefore take unto you the whole armour of God, that ye may be able to withstand in the evil day, and having done all, to stand. Stand therefore, having your loins girt about with truth, and having on the breastplate of righteousness;"
…Blessings… cjlb….2/22/2017