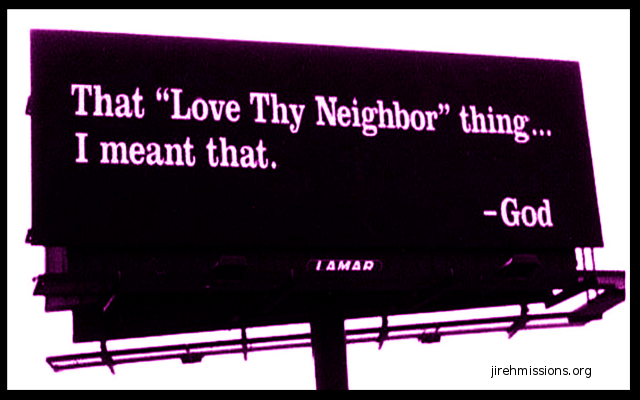 I LOVE you!   What?   My first reaction would be…. "What'cha talking about Willis…?"  I reserve the term LOVE… only… for my immediate family. I've always found it awkward to use it, or even… for someone to use it towards me. That is, until… about 3-4 years ago, I dropped by the house of a long-time family friend (60 years)… to deliver some baked goods prepared by my Dear Wife. I handed her the "goods," and… as I was walking back to the car…she called out to me… "Charley…. I LOVE you."
I turned around, a bit out of sorts (not knowing what to do, or say, at least for a moment), having gathered my wits….I responded…. "I love you too, Nicki." And the thing was, strangely….I felt good about myself. I was glad that she felt that way… and more glad that I did too.
That's our whole problem….we don't express our love for our fellow man. It doesn't have to be in the vernacular… it can be a simple "act of kindness." It can be a "smile." It can be a "get well soon," card. Or, better yet….a PRAYER card. I remember a while back, where my Bible Study Leader….Adrian Despres, said to us, one day. "When I get on an elevator… or walk down the hall of an office building… and see someone passing by…I say…. "Did you know that God LOVES you… and so do I?" Having thought about that for a long time… then, one day I saw this couple on an elevator, seemingly having a few harsh words with one another…so, strengthening my resolve…I said to them… "Did you know that God LOVES you…. and so does Adrian."
OK…you get the point. In fact, Jesus thought so much of the idea of LOVE, that he actually gave us a new Commandment… in John 13:34 – "A new commandment I give to you, that you love one another: just as I have loved you, you also are to love one another."
Even, the new College-Football-National-Champion Coach… Dabo Swinney...said on national TV, last night, for all to hear… "We won against Alabama because of …..LOVE.  Because of the deep LOVE for one-another…for the game…and for God."  …So then, it must be true.
I can't close today's message without sharing with you a recent, and personal, conversation that I had with my best friend of 62 years, who was… only a few days away from meeting his Maker. This… I believe, will give you another perspective on Love. As we were leaving his house… I walked up to his Lazy-Boy… leaning over him… I kissed him on the forehead…saying… "I love you Mickey." He responded…
his voice strong, and with purpose…  "I love you too Charley."  A few days later… I saw Mickey in Hospice… he had just left… to be with Jesus.   Focus on the 'important things in life'…. before it's too late.    …Point made.
So, there you have it… there's a time and a place for everything.  Ecclesiastes 3:1-8.
…..Blessings…cjlb…1/10/17  
RIP – Milford D. Burriss – February 25, 1935 – July 21, 2016 – Electrical Contractor, State Legislator, Summary Court Judge, and best friend. …cjlb